ENTERTAINMENT CENTER DOORS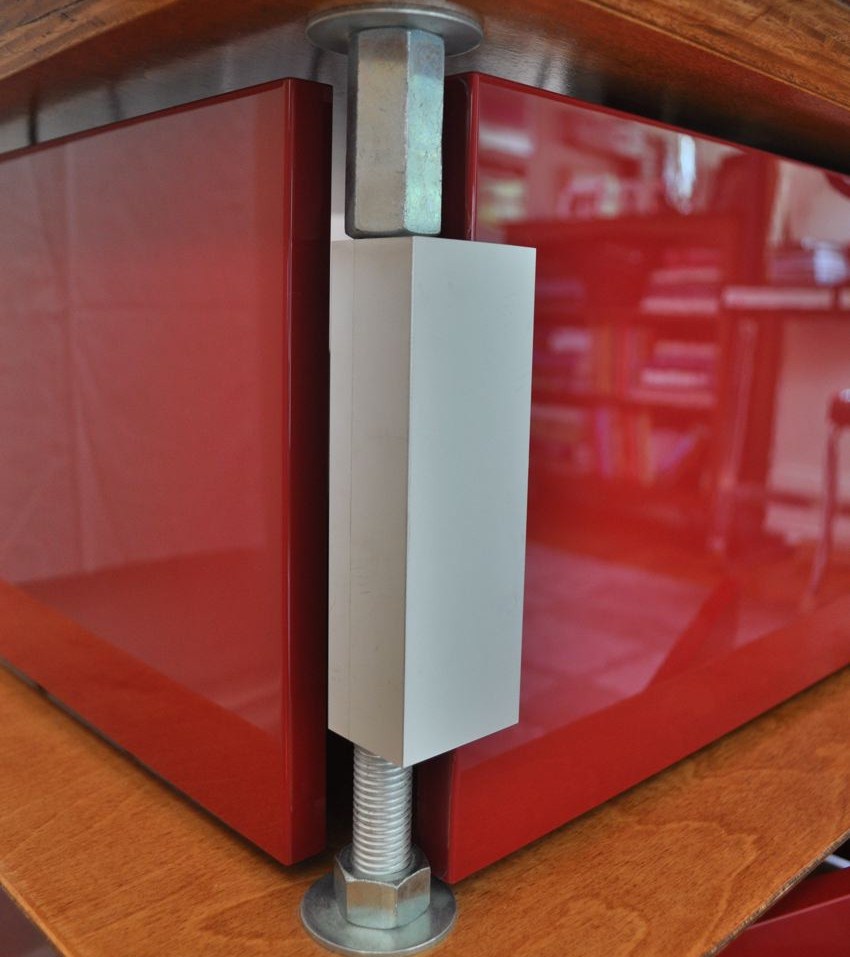 The problem: a highly mobile infant who loves the taste of power cords.
The solution: over-engineered doors and hinges.
This page documents my work to child proof my entertainment center. The original design was open with large shelves meant to nicely frame the devices it held. It never entirely achieved this goal - shelves were made too small because i was trying to get 4 shelves out of a single 4X8 plywood sheet. The look was also influenced by the height that was in part determined by the threaded rod length - 6 ft. The large ratio of height to the other dimensions of the unit made the shelves feel smaller than they were. The birth of my son required that I prevent him from getting access to my DIY amplifiers and preamps housed on the two lower shelves and thus provided me with the impetus to reassess the design and attempt something new. The following documents that process.

I designed the hinges using Google Sketchup and machined the hinges on a Bridgeport milling machine. It took approximately four six-hour days in the machine shop to complete the hinges. The hinges were finished with Krylon matte finish - a spray on finish typically used to protect art. Krylon is not very scratch resistant but it dries in two minutes, is inexpensive, and gives a nice look. To match the door height I needed to reduce the distance between shelves. This required the removal of the copper piping (see pics) used to hide and organize device cables. I plan to reattach the copper pipe as soon as possible. The doors were sourced from ikea - they are drawer fronts from the besta tofta series (see supply links below). The front doors fit perfectly between the threaded rods - lucky me! The side doors needed to be cut to length. Length was different for each side as the side that was adjacent to the front door hinge needed to be shorter to leave room for hinge clearance when opening the front door. The cut doors have the cut edge facing the back of the entertainment center and are partially (60%) covered by the hinge.

The matching of the door height to the shelf height inspired an overall shortening of the unit which I think helps achieve the large open-shelf look I was originally looking for (despite now being hidden by the doors). The quality of materials used for the doors and hinges is high and makes them impressive but I am still unsure about how they integrate with the original design. They are, however, very functional and I feel safe letting my son near the unit now. Future plans for the unit, aside from the reattachment of the copper pipe mentioned above, include making new feet and finishing the back edges of the side doors.
Supply sourcing:
ikea doors
socket cap screws
aluminum flat bar
Krylon matte finish